Shamsul Baharin Jamaludin, Prof. Dr.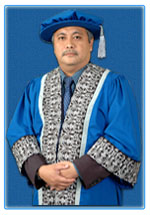 This page provides access to research works by Prof. Dr. Shamsul Baharin Jamaludin, currently a Professor of School of Materials Engineering, Universiti Malaysia Perlis (UniMAP).
News
Skills and Expertise: Material Characterization, Materials, Mechanical Properties, Mechanical Behavior of Materials, Microstructure, Material Characteristics, Materials Processing, Advanced Materials, Mechanical Testing, Materials Testing, Metals, Biomaterials, Extraction, Heat Treatment, Metallurgical Engineering, Materials Engineering, Composites, Coating, Corrosion, Tensile Testing, Welding, Sintering, Concrete, Powders, Alloys, Bioactivity, Casting, EDX, Thermal Properties, Industry, Steel, Composite Material, Fabrication, Recycling, Lithium Ion Batteries, Solidification, Particle Size Analysis, Microwave, Physical Properties, Biocompatible Materials, Colloids, Compressive Strength, Leaching, Aluminum Alloys, Aluminium, Biomedical Devices, Graphite, Injection Molding, Tensile Strength, Materials Characterization, Soldering, Powder Metallurgy, Foundry, Magnesium, Alumina, Metal Matrix Composites, Magnesium Alloys, Hardness Tests and Physical Metallurgy.
Recent Submissions