Mohd Yusoff Mashor, Prof. Dr.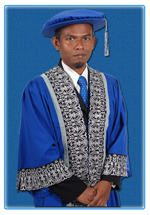 This page provides access to research works by Prof. Dr. Mohd Yusoff Mashor, currently a Professor of School of Mechatronic Engineering, Universiti Malaysia Perlis (UniMAP).
Skills and Expertise: Machine Learning, Image Processing, Pattern Recognition Classification, Signal Processing, Neural Networks and Artificial Intelligence, Control Theory, Computer Vision, Signal, Image and Video Processing, Feature Extraction Algorithms,Computational Intelligence, MATLAB, Clustering, Pattern Classification, Artificial Intelligence, Object Recognition, Applied Artificial Intelligence, Electronic Engineering, Artificial Neural Networks, Image Data Analysis, Signal Analysis System Identification, Control Systems Engineering, Computer Engineering, Fuzzy Clustering, Controller Design Fuzzy Logic, Adaptive Control, Clustering Algorithms, Cervical Cancer, Fuzzy Control Intelligent Systems, Fuzzy Logic Control, Fuzzy Systems and Intelligent Control.
Recent Submissions