Noorhafiza Binti Muhammad, Assoc. Prof. Ts. Dr.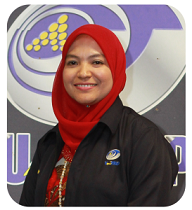 This page provides access to research works by Assoc. Prof. Ts. Dr. Noorhafiza Binti Muhammad, currently a Dean of School of Manufacturing Engineering, Universiti Malaysia Perlis (UniMAP).
News
Skills and Expertise: Material Characterization, Materials, Mechanical Properties, Microstructure, Metals, Heat Treatment, Optics, Metallurgical Engineering, Materials Engineering, Laser, Solid State Physics, Experimental Physics, Biomedical Engineering, Hydrodynamics, Applied Physics, Drilling, Manufacturing Engineering, Polymer Composites, Micromachining, Laser Processing, Laser Applications, Titanium Alloys, Smooth Particle Hydrodynamics and Taguchi Method.
Recent Submissions