Mohd Shukry Abdul Majid, Ir. Dr.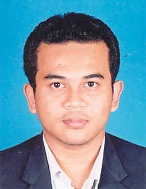 This page provides access to research works by Mohd Shukry Abdul Majid,Ir. Dr. currently a Senior Lecturer of School of Mechatronic Engineering, Universiti Malaysia Perlis (UniMAP).
News
Skills and Expertise: Composite Structures, Strength of Materials, Composite Materials Carbon Nanotubes, Mechanical Behavior of Materials, Mechanical Engineering, Material Characterization, Mechanical Testing, Mechanical Properties, Composite Piping, Composites Performance Analysis, NDE's of Composites, Natural Fibre Composites/Green Composites.
Recent Submissions