Mohd Saufi Ahmad, Mr.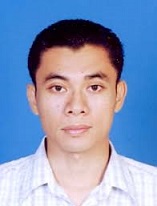 About Mr. Mohd Saufi Bin Ahmad
Mr. Mohd Saufi Ahmad is currently a Lecturer at Faculty of Electrical Engineering Technology, Universiti Malaysia Perlis
He was formerly from School of Electrical System Engineering
ORCID ID: https://orcid.org/0000-0001-8827-3529
Scopus Author ID: 57214108987
Email: Mohd Saufi Ahmad
Research Interests
Electrical Machines & Drive
Recent Submissions
(

American Scientific Publishers

,

2014-02

)

Wireless mobile networking technology can be used to reduce a negative effect that occurs in disaster areas. This study, will present an innovative technique via utilize a Low-altitude platform, in order to provide expanded ...

(

Universiti Malaysia Perlis (UniMAP)Centre for Graduate Studies

,

2010-10-16

)

This paper proposes the technique for developing a copper rotor for AC induction motor. A simple substitution of copper for aluminum in the rotor conductor bars will generally provide a significant reduction in I²R ...