Mohd Nazri Mohd Warip,Ir. Ts. Dr.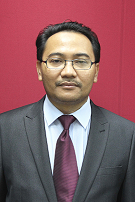 This page provides access to research works by Mohd Nazri Mohd Warip,Ir. Ts. Dr. currently a Senior Lecturer of School of Computer and Communication Engineering, Universiti Malaysia Perlis.
News
Skills and Expertise:Computer Networking,Optics,Network Architecture,Routing Electronic Engineering,Network,Wireless Sensor Network,Energy Efficiency Network Simulation,Wireless Networks,Network Performance Analysis,Network Performance Evaluation,Optical Engineering,Photonics and Optical Communications Ad Hoc Networks,Optical Networks,VANET,Carbon Footprint,Optical Communications GMPLS,Optical transport network,Routing and Wavelength Assignment,IP over WDM and 100 Gigabit Ethernet.
Recent Submissions
Search DSpace
Browse
My Account
Discover
RSS Feeds