Muzammil Jusoh, Assoc. Prof. Ir. Dr.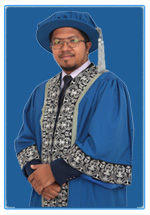 This page provides access to research works by Assoc. Prof. Ir. Dr. Muzammil Jusoh, currently a Director of Centre for Student Development & Services, Universiti Malaysia Perlis.
News
Skills and Expertise: Electronics and Communication Engineering, Wireless Communications, Cellular Communication, Communication Engineering, Microwave, Antennas, Electronic Engineering, Image Analysis, Telecommunications Engineering, Antennas and Propagation.
Recent Submissions