Yarub Al-Douri, Assoc. Prof. Dr.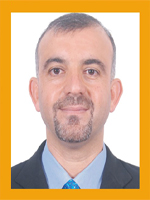 This page provides access to research works by Assoc. Prof. Dr. Yarub Al-Douri, currently a Research Fellow of Institute of Nano Electronic Engineering, Universiti Malaysia Perlis.
News
Skills and Expertise: Material Characterization, Materials, Nanomaterials, Optoelectronics, Optics, Materials Engineering, Nanoelectronics, Condensed Matter Physics, Semiconductor, Solar Cells, Nanostructures, Quantum Dots and Thermoelectricity.
Recent Submissions
(

Hindawi Publishing Corporation

,

2014

)

An electrochemical DNA biosensor was successfully fabricated by using (3-aminopropyl)triethoxysilane (APTES) as a linker molecule combined with the gold nanoparticles (GNPs) on thermally oxidized SiOthin films. The SiOthin ...

The present study explores the structural, elastic, electronic and optical properties of the newly synthesized monoclinic Zintl phase BaIn₂P₂ using a pseudopotential plane-wave method in the framework of density functional ...

Zinc-oxide (ZnO) pyramidal and nanoflakes were grown by electrochemical deposition of Zn(NO3)2·6H2O on n-type Si substrate with different crystallographic orientations and on indium tin oxide (ITO)-coated glass. Various ...