Sinar Arzuria Adnan, Ts.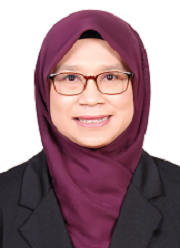 About Ts. Sinar Arzuria Adnan
Ts. Sinar Arzuria Adnan is currently a Lecturer at Faculty of Chemical Engineering Technology , Universiti Malaysia Perlis
She was formerly from School of Materials Engineering
ORCID ID: https://orcid.org/
Scopus Author ID: 55899850500
Email: Sinar Arzuria Adnan
Research Interests
Mechanical properties
Mechanical Testing
Material Characterization
Materials Engineering
News
Skills and Expertise:Material Characterization,Materials,Nanomaterials Mechanical Properties,Finite Element Analysis,Mechanical Behavior of Materials Microstructure,Mechanical Testing,Materials Engineering,Composites Carbon Nanotubes,Powders,Carbon,Aluminium,Compression,Adhesives Polymer Nanocomposites,Powder Metallurgy,Polyurethane,Magnesium and Laminated Composites.
Recent Submissions