Supri Abdul Ghani, Assoc. Prof. Dr.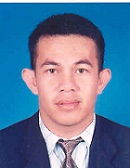 This page provides access to research works by Associate Professor Dr Supri Abdul Ghani, former an Associate Professor of School of Mechatronic Engineering, Universiti Malaysia Perlis (UniMAP).
News
Skills and Expertise: Materials Science, Physics and Astronomy, Computer Science , Genetics and Molecular Biology , Management and Accounting.
Recent Submissions