Mohd Nazree Derman, Dr.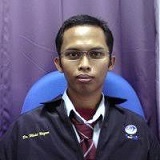 This page provides access to research works by Dr. Mohd Nazree Derman, currently a Senior Lecturer of School of Mechatronic Engineering, Universiti Malaysia Perlis (UniMAP).
News
Skills and Expertise: Material Characterization, Materials, Nanomaterials, Mechanical Properties, Thin Films and Nanotechnology, Microstructure, Material Characteristics, Nanomaterials Synthesis, Biomaterials,Heat Treatment,Materials Science,Nanoparticles, Materials Engineering, Composites, Nanotechnology, Coating, Nanofabrication, Nanoelectronics, Solid State Physics, Nanocomposites, Electrochemistry, Surface Engineering, Microelectronics and Semiconductor Engineering, Alloys, Microfabrication, Surface Coating, Corrosion Engineering, Aluminium, Powder Metallurgy, Metal Matrix Composites, Molecular Imprinting, Anodic Aluminum Oxide.
Recent Submissions