Shafriza Nisha Basah, Assoc. Prof. Ts. Dr.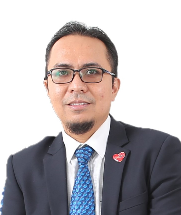 About Assoc. Prof. Ts. Dr. Shafriza Nisha Basah
Associate Professor Ts. Dr. Shafriza Nisha Basah is currently a Associate Professor at Faculty of Electrical Engineering Technology , Universiti Malaysia Perlis
He was formerly from School of Mechatronic Engineering
ORCID ID: https://orcid.org/0000-0003-0396-4262
Scopus Author ID: 26653958200
Email: Shafriza Nisha Basah
Research Interests
Robotics
MATLAB Simulation
Computer Vision
News
Skills and Expertise: Mechatronic System, Computer Vision, Motion Segmentation, Robotics, Mobile Robotics, Automation, Robot Vision, MATLAB Simulation, Medical Robotics, Feature Extraction, Electromechanics.
Recent Submissions