Mukhzeer Mohamad Shahimin, Dr.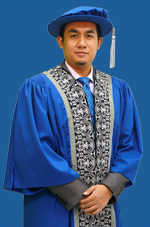 This page provides access to research works by Dr. Mukhzeer Mohamad Shahimin, currently a Director of Centre for Industrial and Goverment Agencies Collaboration, Universiti Malaysia Perlis (UniMAP).
News
Skills and Expertise: Optics and Photonics, Photovoltaics, Laser, Optoelectronics, Thin Films and Nanotechnology, Materials, Material Characterization,Thin Film Deposition, Optics and Photonics.
Recent Submissions