Ishak Ibrahim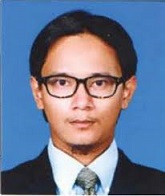 This page provides access to research works by Ishak Ibrahim, currently a Lecturer of School of Mechatronic Engineering, Universiti Malaysia Perlis.
News
Skills and Expertise:Materials,Mechanical Properties,Mechanical Behavior of Materials,Materials Processing,Mechanical Engineering,Tensile Testing,Welding,Steel,Fabrication,Aerosols and Friction-Stir Welding
Recent Submissions
(

Argentinean Association of Computational Mechanics, Brazilian Association of Computational Mechanics, Mexican Association of Numerical Methods in Engineering and Applied Sciences

,

2014

)

Randomness in the microstructure due to variations in microscopic properties and geometrical information is used to predict the stochastically homogenised properties of cellular media. Two stochastic problems at the ...

(

Universiti Malaysia Perlis (UniMAP)Pusat Pengajian Kejuruteraan Mekatronik

,

2012-02-27

)

This paper deals with strength and failure prediction of V-shaped epoxy adhesive joint. The effect of scarf angle and bond thickness upon the joint strength is investigated by tensile test. A simple failure criterion ...

(

Universiti Malaysia Pahang (UMP)

,

2009-06-20

)

This paper is about simulation of crack analysis on a plate with ellipse and small rivet holes. This simulation is show the condition on a plate which has 8 rivet holes around the ellipse hole. This dimension of the plat ...