Norzilah Abdul Halif, Dr.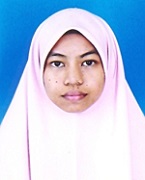 About Dr. Norzilah Abdul Halif
Dr. Norzilah Abdul Halif is currently a Senior Lecturer at Faculty of Chemical Engineering Technology, Universiti Malaysia Perlis
He was formerly from School of Materials Engineering
ORCID ID: https://orcid.org/0000-0002-3899-5694
Scopus Author ID: 55898590100
Email: Norzilah Abdul Halif
Research Interests
Adsorption
Fluid Mechanics
Langmuir
Wastewater
Recent Submissions
(

Trans Tech Publications

,

2013

)

The ability of pomelo peel (PP) as natural adsorbent to remove Cu (II) ions from aqueous solution was investigated. The influence of solution pH, contact time and temperature were evaluated. Cu (II) removal increased as ...