Norzilah Abdul Halif, Dr.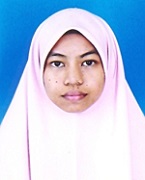 This page provides access to research works by Dr. Norzilah Abdul Halif, currently a Lecturer of School of Materials Engineering, Universiti Malaysia Perlis (UniMAP).
News
Skills and Expertise: Material Characterization, Fluid Mechanics, Thin Films and Nanotechnology, Synthesis, Advanced Materials, Wastewater Treatment, Nanomaterials Synthesis, Nanoparticle Synthesis, Water Treatment, Adsorption, Thin Films, Materials Engineering, Nanofabrication, Chemical Engineering, Catalyst, Finite Element Method, Nanoelectronics, Nanocomposites, Porous Materials, Water Purification Technologies, Carbon Nanotubes, Wastewater, Polymer Composites, Hydrogen Storage, Materials Characterization, Langmuir and Materials Research.
Recent Submissions
(

Trans Tech Publications

,

2013

)

The ability of pomelo peel (PP) as natural adsorbent to remove Cu (II) ions from aqueous solution was investigated. The influence of solution pH, contact time and temperature were evaluated. Cu (II) removal increased as ...