Nashrul Fazli Mohd Nasir, Dr.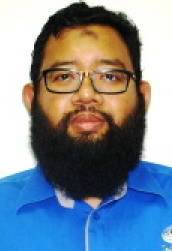 This page provides access to research works by Dr. Nashrul Fazli Mohd Nasir, currently a Senior Lecturer of School of Mechatronic Engineering, Universiti Malaysia Perlis (UniMAP).
News
Skills and Expertise: Material Characterization, Materials, Thin Films and Nanotechnology, Product Design and Development, Thin Film Deposition, Biomaterials, Adsorption, Materials Engineering, Tissue Engineering, Measurement, Electronic Engineering, Biomedical Engineering, Microfabrication, Fabrication, Biocompatibility, Membranes, Lighting, Papers, Photolithography, Etching, Epitaxy, Micromachining, Current - Voltage, Energy Harvesting, Biomedical Devices, Collagen, Scaffold, Chitosan, Hydroxyapatites, Wet Etching, Probes, Applications, Tissue Scaffolds, Biomedical Engineering Education, Reactive Ion Etching (RIE), Enzyme-based Biosensors and ohmic contact.
Recent Submissions